Wash Co Fourth Of July
Parade & Celebration
Food, Entertainment and More!
WHEN:
Thursday July 4, 2019
WHERE:
Parade: Downtown Canonsburg
Entertainment: Various places in and around Canonsburg
The 4th of July Celebration starts in...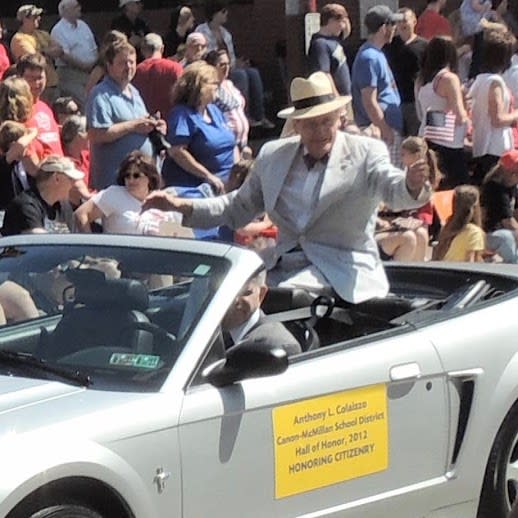 Morning Schedule (Thursday July 4th, 2019)  
7:30am 35th Annual Whiskey Rebellion 5K.  
9:00am Ringing of church bells to signal opening of ceremonies  
9:05am Remarks at reviewing stand by Mayor David Rhome and July 4th of July Committee Chairman Bill Brooks  
10:00am Parade begins at Cavasina Dr. (near Walgreens) & proceed westward onto Pike Street ending at Bluff Street.  
Grand Marshal:  
  Captain Jonathan Kline - Commanding Officer Naval Support Activity Hampton Roads  
Afternoon Schedule at Canonsburg Town Park (Thursday July 4th, 2019)  
Noon - 6pm  
Free Town Park Activities For All! FREE Balloon Animals, Face Painting, Rock Climbing, Inflatables.  
Family Swim Party  
12pm (Free Admission) - All ages welcome. (Pool Party made possible by a grant from the Velma Jeffreys Youth Activities Fund and the EQ Johnson for Charity Trust. )  
Musical Entertainment  
1:30pm SNPJ Button Box – Polka Music at its best  
3:00pm Tom Terling Band – Top 40 and Rock  
Evening (Thursday July 4th, 2019) Canonsburg Memorial Stadium
 7pm Doors Open  
8pm National Anthem, and other selections performed by Ashley Mullens  
 Float winners announced  
 8:30pm On The Level  
10pm - Fireworks produced by Zambelli Fireworks International  
Special thanks to Tatano Wire for the use of their plant area.  
Fireworks rain date: Friday, July 5, 2019 at 10:00 PM
  Check www.canonsburgjuly4th.org for more details.