Wash Co Pony League World Series
WHEN:
Friday August 9
Thru
Sunday August 15
WHERE:
Lew Hays Pony Field
200 Dunn Avenue
Washington Park
Washington, PA 15301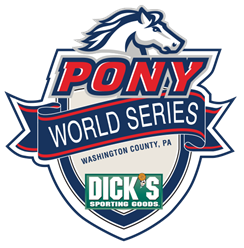 Since 1981, World Series Tournaments, Incorporated (WSTI) has been producing the PONY League World Series in its backyard of Washington, Pennsylvania.
Ticket prices at the field gate:  
Daily Tickets Adults: $6 Youth (14 and under): $4  
Weekly Passes Adult: $25 Youth (14 and Under): $15  
For reduced prices online, go to:  
BUY TICKETS NOW Click Here  
There are three (3) points of entry at Lew Hays Pony Field Main Entrance (first base side by concession stand)* Suggested entrance Colt Field Entrance (outfield, above Colt Field parking) Upper Entrance (Above third base bleachers)  
All seating at the DICK'S Sporting Goods PONY League World Series is general admission, either bleacher or lawn seating. Handicapped seating is available along the top row of the first base side bleachers. For more information on Lew Hays Pony Field, go to Lew Hays Pony Field under Fan Info.
Useful information:  
2019 PONY League World Series Fact Sheet