DICK'S Sporting Goods PONY League World Series
AUGUST 11-16, 2023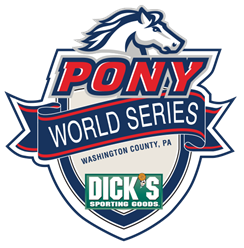 PONY Baseball and Softball™ began with the organization of the Pony League in Washington, PA in the summer of 1951. This was a transition league for 13-year-old and 14-year-old players designed to take graduates of Little League baseball from that diamond to the regulation size diamond. The growth of Pony League, primarily by word of mouth, was rapid, and by the end of the second season, 1952, the original six teams in Washington were joined by 505 others in 106 leagues around the country. A national tournament was conducted, and the first Pony League World Series was held that year.
This year, 10 teams of the finest U-14 players from around the globe—including teams from Puerto Rico, Taiwan, Mexico and the United Kingdom—will compete on the field where it all began for the title. Pure baseball. Pure PONY.
The American Spirit Sweepstakes represents the best of Washington County. From pro baseball, to chart-topping concerts, the great outdoors and more! Enter today!